Access Control
4 Doors Kit with Installation
Access Control
4 Doors Kit with Installation
This package includes all the necessary equipment to control access to one door. 10 access cards included in the package have convenient size as a credit card and can be programmed individually. You can choose the access rights and schedules for each key-card. You can extend this package with additional electric locks and additional key-cards. The equipment is compatible with our systems of home and business automation.
Package include:
Main Control Board
Metal case
4 Card Readers
4 Electric Strikes
20 Access Cards
DC12V, 5A, 4 Port Power

12V 7ah Sealed Lead Battery

Professional Installation Included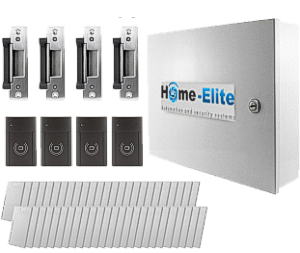 Price: $4895* CAD
Price: $3995* CAD
* Based on average complexity of installation. Final price may vary based on wiring and installation complexity.
Get Free Estimate Today.
Give us a Call:
+1 (416) 739-7379 (Toronto & GTA)